Born Digital: Understanding the first generation of digital natives
Review by Scott Windeatt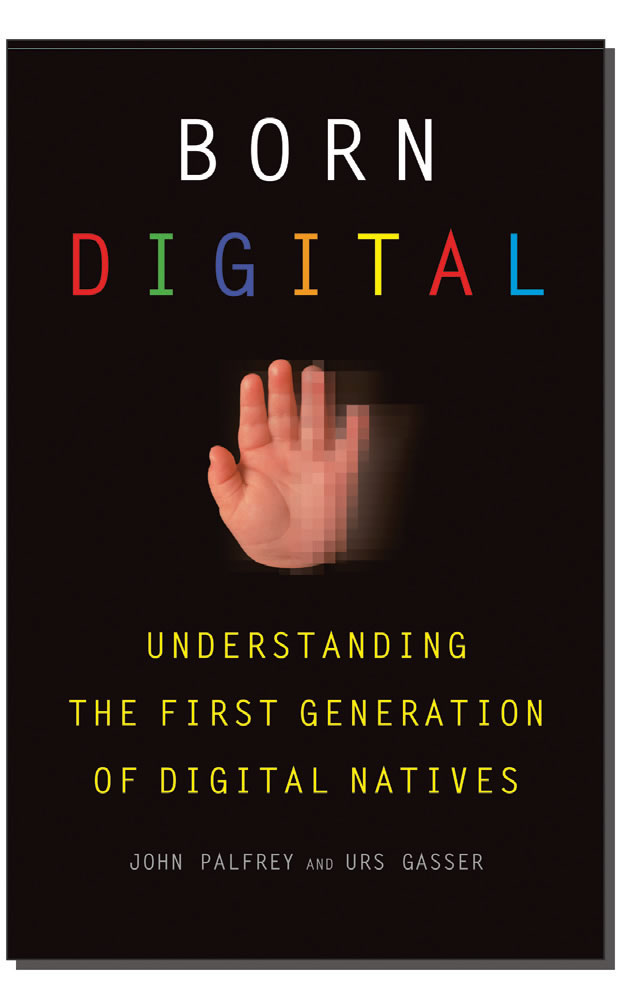 John Palfrey and Urs Gasser
Basic Books
ISBN: 978-0465005154
My daughter sits at the dinner table giggling occasionally as she eats and carries on a conversation – or multiple conversations – by text on her mobile phone. Later I check some blogs written by my students and notice my son is online so I send him an instant message and get a more or less instant reply. I learnt about instant messaging from my students, who always seemed to have several conversations going in my CALL classes while, occasionally, doing the task I had set them. I learnt about mobile phones from my son, who set me right on the tariff and the features I needed (nothing too complicated for you Dad). I learnt blogging from my daughter - and about Facebook and Twitter (how else would I find out what she was up to?).
You see, my students and my children are "digital natives" (to use Palfrey and Gasser's term), and I am a "digital immigrant". "Digital natives" have been born into a world where mobile phones, computers, and, especially, the internet, have been an integral part of their lives, and the book deals with ways of bridging the gap in knowledge and experience between them and their "digital immigrant" parents and teachers. The book is wide-ranging, dealing with topics such as privacy and safety, copyright, information quality, information overload, video games, digital innovation, creativity, and learning. To deal with the issues of privacy and safety the authors recommend the need for corporate responsibility, technical solutions,and legal measures, but especially for education. In fact the emphasis throughout the book is on education, with recommendations that parents and schools take responsibility for developing digital literacy among the "digital natives". They suggest, however, that digital education should be a two-way process, with parents and children, teachers and students, and (because they also distinguish between more and less savvy "digital natives"), students and students, working together to educate each other. Most importantly they suggest that much of what needs to be learnt and taught to survive in the digital world is not fundamentally different from what is needed in the non-digital world. What is written on the web should not be accepted uncritically, and while Wikipedia might be the first port of call, what is found there needs to be cross-referenced against other sources, the authorship of websites should be checked, and digital plagiarism is still plagiarism. Teachers will recognise these as issues to be dealt with in critical reading and study skills activities, whether digital or non-digital, which are carried out at school and university level.
The book devotes one chapter to "learning", which, for "digital natives", they characterise as a multi-tasking process that involves "grazing", a "deep-dive" and a "feedback loop". Although "digital natives" read less in conventional media, through "grazing" online (e.g. news headlines from a variety of sources) they are potentially exposed to far greater amounts of information than earlier generations, and, providing they combine "grazing" with exploring a topic in detail ("deep-diving"), and reflect on what they have found (the "feedback loop"), they are likely to learn at least as much as earlier generations of learner (though the authors provide little concrete evidence for this claim). The authors point out some of the creative possibilities presented by technology (podcasts, slide shows in PowerPoint, video editing using Movie Maker) and some of the opportunities these activities offer for dealing with issues such as copyright. They recommend, however, that technology should be integrated into the curriculum rather than used for its own sake, and report evidence that learners themselves prefer a blended learning approach, with a moderate use of technology.
Scott Windeatt is Head of the Applied Linguistics and TESOL section in the School of Education, Communication and Language Sciences at Newcastle University.
Topics in the book are dealt with thoroughly, though perhaps sometimes rather repetitively (I felt at times as if the book was made up of what had originally been a series of articles). The authors take a sensible approach to the potential dangers for "digital natives" and acknowledge that there are no simple solutions to the problems they identify, pointing out the potentially negative side-effects of some commonly favoured solutions. They provide references for many of their claims, and these are often illustrated with quotes from subjects interviewed for their work on the book. As an overview of the topic the book is likely to appeal especially to schoolteachers and parents. As a university teacher and a more experienced "digital immigrant" I found their recommendations on learning with technology sensible rather than new. However I certainly found much of interest in the book, and at least one idea that I will use with my own students.