Task One
Use the strategies mentioned to see if you can work out the meanings of the highlighted words in the following article. The reading has been divided into three parts. You need to correctly answer each set of questions before you can move onto the next question. This is to help you work out the meanings step by step.
3D printing powered by thought
BBC Future 14 June 2013 By Camila Ruz
Reprinted with permission from BBC ( http://www.bbc.com/future/story/20130613-3d-printing-your-thoughts )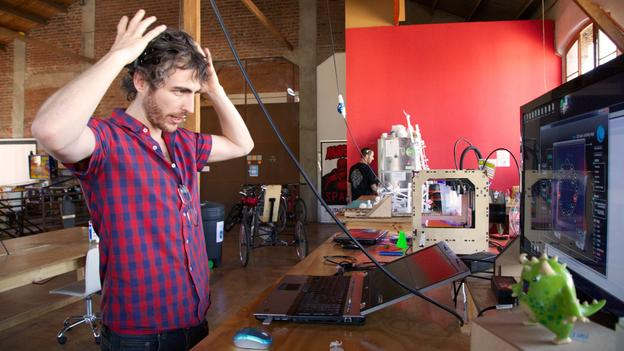 Thinker Thing, a start-up based in Santiago, Chile, says it has developed a way of printing 3D objects from people's thoughts. (Reprinted with permission from Nisha Ligon)
Thought provoking
Imagine if you could print objects just by thinking about them. Camila Ruz visits one company to see whether this is a far-fetched dream or a real possibility. It's definitely not a bird. Nor is it a plane. The garish orange piece of plastic, small enough to hold in the palm of a hand, could pass for a missing limb of a toy tyrannosaurus. It may not look all that impressive, but it's notable for two reasons. One is that the monster arm has emerged from a 3D printer. The other is that it is, in fact, the first ever object made from thought. This milestone was reached with little ceremony last month at the Santiago MakerSpace (http://stgomakerspace.com), a technology and design studio in the Chilean capital. The toy limb's shape was determined according to the wishes of its designer, as gleaned from a headset picking up his brainwaves. The man in question was George Laskowsky, Chief Technical Officer of Thinker Thing (http://www.thinkerthing.com/), the Chilean start-up developing the mind-controlled 3D printing system. Engineers and designers have been using 3D printers for more than two decades. More recently, prices have tumbled and desk-top devices are increasingly being aimed at consumers. The promoted possibilities appear to be endless – from bones to buildings to burritos – making some observers predict revolutionary consequences like the eventual demise of the factory.