Global luxury brands cash in on more Mainland Chinese travelers
By Ramy Inocencio , for CNN - January 22, 2013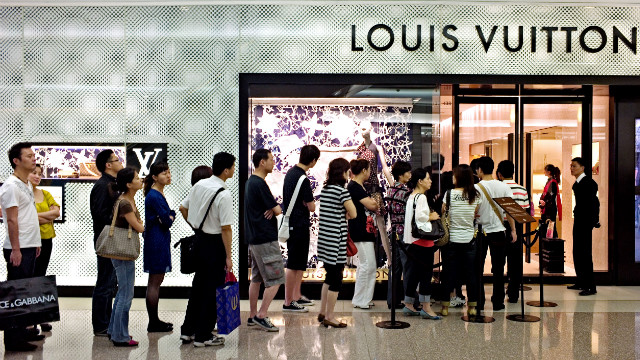 Shoppers queue to enter a shop of French luxury brand Louis Vuitton in a shopping mall in Shanghai, China
| | |
| --- | --- |
| jump/leap/increase | leaped/jumped/ballooned |
| estimated | demand for |
| account for | jump/leap |
| rising/growing/increasing/expanding | according to |
| rising | predicted/expected |
Hong Kong (CNN) -- More Mainland Chinese travelers are jet-setting to foreign shores and global luxury brands are cashing in, (1.) a new survey by KPMG, the global auditing firm. The report also revealed that (2.) Chinese incomes are fueling (3.) luxury goods right at home in the domestic market. The findings from KPMG's "The Global Reach of China Luxury" echo reports over the past several months that show Chinese consumers are able -- and willing -- to pay more.
An HSBC report in September (4.) that 25% of the world's luxury purchases were made by Chinese nationals – a (5.) up from a 5% market share in 2007.
The global management firm McKinsey & Co. reported in December that Chinese consumers had become the prime engine of growth for the luxury sector, surpassing Japan, which had long been the world's largest.
By 2015, McKinsey & Co. (6.) China's luxury market would (7.) one fifth of global sales with a value of $27 billion.
The number of Mainland Chinese consumers polled who traveled overseas in 2012 (8.) to 71% -- a "significant (9.) " from 53% in 2008, the KPMG report said. Of those travelers, 72% said they bought more high-end products such as handbags, cosmetics and watches.
This (10.) tide of Mainland Chinese travelers means that global luxury brands need to take another look at their business strategies in order to take advantage, said Nick Debnam, KPMG China's Asia Pacific Chairman of Consumer Markets.

© 2013 Cable News Network. Turner Broadcasting System, Inc. All Rights Reserved.
http://edition.cnn.com/2013/01/22/business/mainland-chinese-travelers-luxury-brands